BARRACK ST BOYS VISIT THEIR ALMA MATER
EDMUND RICE ENGLAND VISIT BELFAST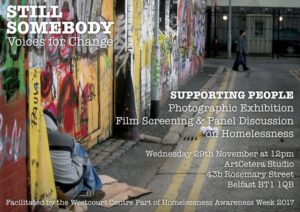 EREBB EUROPEAN GATHERING (NOVEMBER 2017)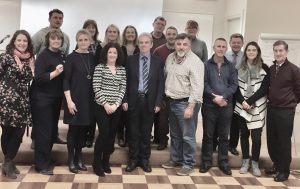 OFFICIAL OPENING AND BLESSING OF NEW JOHN PAULII ANNEX
LINK WITH THE EDMUND RICE SCHOOLS CHARTER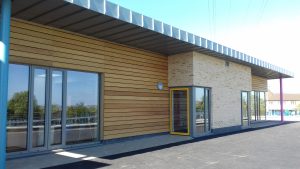 JOHN PAUL II HELPS WITH "THIRTY DAYS, THIRTY RIGHTS'
NEW PRINCIPAL AT ST PATRICK'S PRIMARY SCHOOL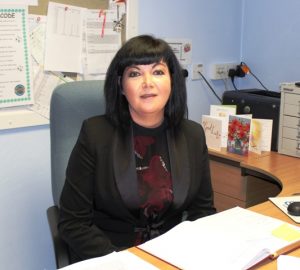 ABBEY'S VISIT TO THE PETER MC VERRY TRUST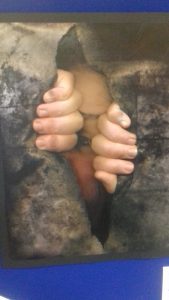 EDMUND RICE COLLEGE ART AND PHOTOGRAPHY EXHIBITION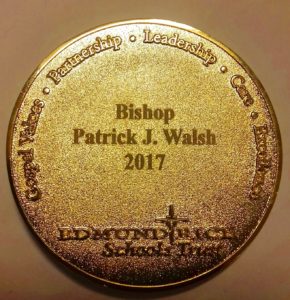 FIRST RECIPIENT OF THE EDMUND RICE MEDAL
CBS Pupils and their Polish Partner School visit the North Antrim Coast
The Christian Brothers' Primary School has recently been heavily involved in an Erasmus+ European School Exchange Project entitled 'Net Is The Key." One of the main aspects of this project has been to team up with schools from around Europe and work on Internet Based Online Collaboration activities. The school was delighted to welcome 5 pupils and 2 teachers from their Polish partners from the city of Zamosc in south-eastern Poland to visit them. Part of their visit was to spend a day touring the North Antrim Coast with the pupils of the Primary 7 classes.
OMAGH CBS TO EDMUND RICE DEVELOPMENT
MAGEEAN CUP WINNERS IN ALL-IRELAND FINAL
OMAGH CBS INTO U13 NI SCHOOLS FINAL
ST PATRICK'S PS – A RIGHTS RESPECTING SCHOOL
DANSKE BANK ULSTER COLLEGES ALL-STARS 2017
**************************************************************************************************
JOHN PAUL II PRIMARY SCHOOL
John Paul II Primary School choir
will be singing live on Radio Lapland (formerly Blast Radio) on Wednesday night 14th December
at 8pm – 9pm in support of N.I Children's Hospice.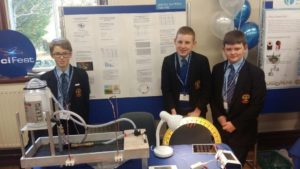 ST MARY"S LIFT THE MAGEEAN CUP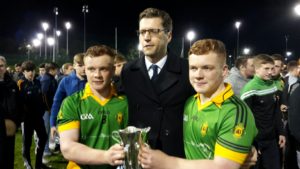 HOMELESSNESS RAISED WITH MINISTER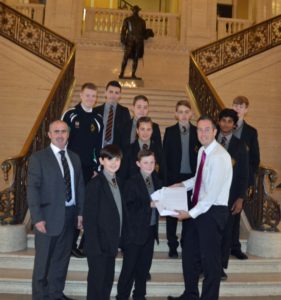 STRULE EDUCATION CAMPUS LAUNCH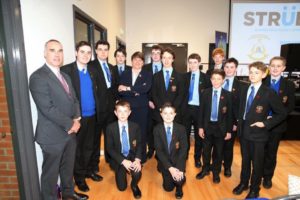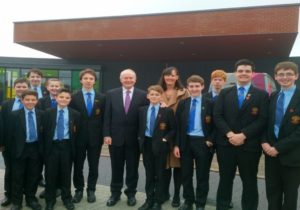 *****************************************************************************************************************
OMAGH CBS TO CHANGA CHANGA CBS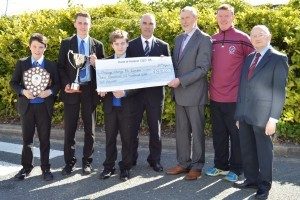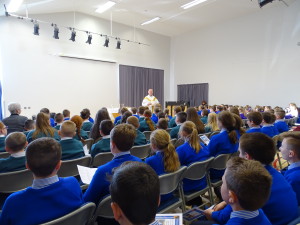 The Edmund Rice Awards Ceremony (Primary Schools)
was held on Wednesday, 27th April 2016
in St Clare's Abbey Primary School, Newry.
St Clare's Abbey PS, Newry / St Patrick's PS, Belfast / John Paul II PS, Belfast / Armagh CBS
EDMUND RICE AWARDS (POST-PRIMARY)
*******************************************************************************************************************************
ANNUAL FOUNDATION MASS – APRIL 2016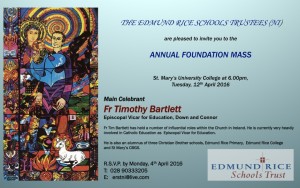 ANNUAL FOUNDATION LECTURE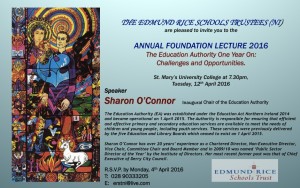 HEAD OF ENGLISH WINS PRIZE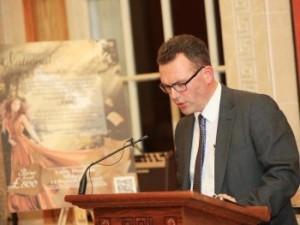 SHARED HERITAGE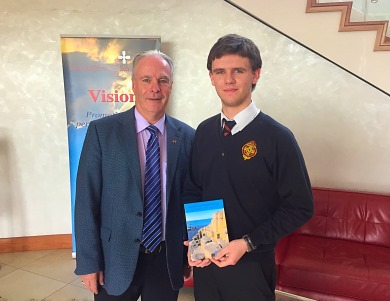 Mr Dermot McGovern, Principal of the Abbey CBS congratulates Michael Jordan, Year 13, for his published article in Gael-Linn's latest publication 'Aspects of a Shared Heritage'. Michael's article entitled 'Who am I as an Irish Speaker?' is published alongside recognised poets, lecturers, writers and Irish Language activists such as Mícheál B Ó Mainnín, Art Hughes, Linda Ervine and Janet Muller.
Aspects of a Shared Heritage: Essays on linguistic and cultural crossover in Ulster
A new Gael Linn publication presents a clear picture of the role of Irish in society, with particular reference to Northern Ireland. In a series of articles by experts in their respective fields, aspects of the Irish language and culture are explored in a very accessible style.
A central theme of the book is that, while it may define a people, language is not the preserve of any one group of people. In her article entitled 'Our land, our language', Linda Irvine writes:
As a people we are culturally rich yet, instead of embracing that wonderful cultural mix, we separate it into narrow divisive boxes and deny ourselves access to very things that make us who we are.
Seamus Heaney has also written: 'Not to learn Irish is to miss the opportunity of understanding what life in this country has meant and could mean in a better future; it is to cut oneself off from ways of being at home.'
The Irish language today exhibits the influences of cultural contact over the millennia. Aspects of a Shared Heritage gives examples of Christian-Latin influence on the Irish language: 'leabhar' and 'scoil', from the Vikings: 'beoir/beer' and 'margadh/market', and from the Normans: dinnéar/dinner, seomra/room. Irish, in turn, through various structures and words has made our form of English very distinctive eg. 'He let a roar out of him'/ Lig sé béic as. The abiding influence of Irish may also be seen in our placenames and surnames, a topic which is explored in the book.
Aspects of a Shared Heritage owes its origin to a Gael Linn project to facilitate greater understanding between communities in the North regarding their respective cultures. The scheme is supported by Foras na Gaeilge who have also contributed to this publication.
Priced £5 or €6, Aspects of a Shared Heritage is available from:
Gael Linn 35 Dame Street, Dublin 2 or 20 Cathedral Road, Armagh BT61 7QX.
Further information: eolas@gael-linn.ie or 01-6751200 or 048-37522162
ULSTER AND ALL-IRELAND FINALS
Congratulations to the Tyrone U21s and their Goalkeeping Coach Mr Des Maginness
on their Ulster Final victory against Donegal on Wednesday 8th April
and their progression to the All Ireland final
as a result of their victory over Roscommon on Saturday past.
Tyrone defeated Tipperary by 1-11 to 0-13 in the Eirgrid All-Ireland Under 21 Football Championship Final on Saturday May 2nd at Parnell Park Dublin.
 +++++++++++++++++++++++++++++++++++++++++++++++++++++
PAST PUPIL SCOOPS PRESTIGIOUS POETRY PRIZE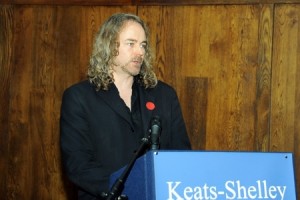 The St. Mary's community sends congratulations to past pupil Paul McMahon who received the top award in the 2015 Keats-Shelley Poetry Competition for his poem, Tom's Pouch of Cure Stones.
The Keats-Shelley Prize is an annual competition for essays and poems on Romantic themes. Inaugurated in 1998, the Prize encourages writers to respond creatively to the work of the Romantics. The Poet Laureate, Carol Ann Duffy, was appointed as Chair of the judges of the Keats-Shelley Prize 2015. Paul should be most proud of his award and assured that all here in St. Mary's are equally proud of his success.
Paul has recounted his first experience of Heaney's Death of a Naturalist in English class here in St. Mary's and how he was caught "hook line and sinker by the allure of poetry." From that day on he claims he became a" fisherman" keen to delve deeper into the meaning and craft of poetry. We know Paul's former teacher, Mr Campfield, will feel privileged to have nurtured Paul's talent. We anticipate future success for this most talented writer and send warm congratulations.
*************************************