Past Staff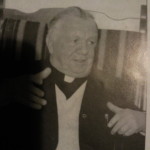 An Br Tom Beausang (Wee Beau): Former Principal and Teacher. A Cork man. Rinne sé an-obair go deo leis an Ghaeilge  a chur chun cinn i gCúige Uladh.  Began teaching in the North in Newry and returned there in retirement.
Br Canton:
Br Finn:
Br Sullivan:
St. Malachy's [Oxford Street] School – First Holy Communion Class [circa 1955/'56]
Back Row: ———-, ———, V.McKeown, T.Birch, ——–, T. Morrow, ——– ,———, H. McCallum
Third Row:   ?
Second Row: E. Hannratty, Gerry Hadley, ———–, R. Dalziel?   P.Fallon, ———, ———, Frank Kelly
Front Row: Terry Murray, ———-, ———–, ? McCann, ———, G.Dalton,———-, ? McCann
Any help in identifying the missing names from this photo would be greatly appreciated.
PAST PUPILS
1920s
David Bell, Francis R Bogue,  John D D'Arcy, James de Largy, Kevin J Donaghy,  Thomas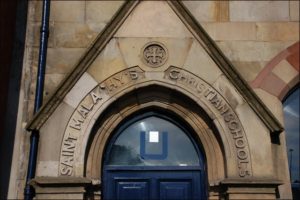 Dugan, Thomas V Finegan, James F J Bereen, Peter McGarry,
1950s/60s
T Birch, G Dalton, R Dalziel, P Fallon, Gerry Hadley, E Hannratty, Frank Kelly, Gabriel McCaffrey, H McCallum, Joe McCormack, V McKeown, T Morrow, Terry Murray,  

OTHERS
Connolly, James Joseph: To St Mary's, Barrack St until 1935.
McCormack, Joe (Mr): 1950s/60s: Owner, McCormack Associates and Management Consulting.
Phoenix, Éamon (Dr): Historian, Senior Lecturer, Writer. Transferred to St Mary's CBGS, Barrack St.