LAUNCH OF THE EDMUND RICE SCHOOLS TRUST (NI)
DROMANTINE CONFERENCE CENTRE
ADDRESS BY
CARDINAL SEÁN BRADY
TUESDAY,  20th JANUARY 2009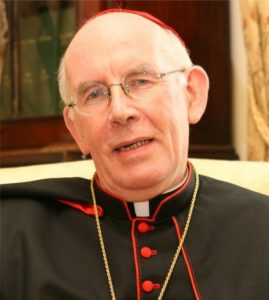 We are here today to see history in the making.  The Edmund Rice Schools Trust is being launched in Northern Ireland.  Responsibility for the great tradition of Christian Brother education is being handed over to the in-coming members and Directors and Members of the Trust.  Various schools, primary and post-primary and playing fields are involved.  They are located in four different counties – Antrim, Armagh, Down and Tyrone – namely at Belfast, Armagh, Newry and Omagh.  Those involved include:
Armagh CB Primary; The Abbey Grammar, St. Colman's, Newry; Edmund Rice Primary, Pim Street, Belfast; St. Aidan's Primary, Whiterock Road, Belfast; St. Mary's Grammar, Belfast; CBS, Glen Road, Belfast; Edmund Rice College, Glengormley and Omagh CBS.
These are names and places that evoke precious memories and strong emotions in the hearts of past-pupils across the length and breadth of Ireland and beyond.
In taking this step, the Christian Brothers and their colleagues in the network spread across the globe, are responding to the needs of a changing world.  The Members and Directors of the Trust are eminent, generous and public-spirited people, committed to the mission and vision of Blessed Edmund Rice.  Their task will be to ensure that the spirituality and charisma of Blessed Edmund Ignatius Rice will continue to be a lived reality in all of these schools.
That is quite a challenge.  They are assuming responsibility for these schools.  I wish them God's blessing and guidance in their all-important work, all-important work for the well being of the community.  I pray that they will have the wisdom of the Holy Spirit in abundance.  I hope that they will get generous co-operation from the parents, teachers and pupils.  I thank them most sincerely for being willing to assume this responsibility.
I congratulate Brother Kevin Mullan and his confreres on this courageous decision.  I thank and congratulate the Project Manager, Brother John Henaghan, and all who have helped the project to become a reality.
So, we are all here today to celebrate.  We celebrate this important occasion because it marks the handing-on of a praiseworthy tradition.  I am delighted that it is being carried out and celebrated with such dignity and beauty, such solemnity and seriousness.
Today we give thanks to God for the noble heritage of Christian Brother education.  Last Thursday I was in Waterford City for the funeral of Bishop Michael Russell.  On the way we passed close to Callan, the birthplace of Blessed Edmund Ignatius Rice.  As I did so, I was reminded of the question posed by Pope John Paul II on the day of his beatification'
"Who will ever measure all the good that has come from the spiritual insight, the warm heart and determined faith of Blessed Edmund Ignatius Rice?"
Spiritual insight, warm heart, determined faith – three wonderful qualities which Blessed Edmund Ignatius Rice had in abundance.
Of course, passing on faith in spiritual realities is never an easy task.  It is not an easy task today but it is a task that must be faced, otherwise we surrender to the philosophy that we live on bread alone. In this respect, Edmund Rice was an outstanding success, for a number of reasons: because of his love for Jesus and because of his care for the poor, the needy and the weak.  He built his life on solid prayer and a tender devotion to Mary, the Mother of Jesus.
I visited the birthplace of Blessed Edmund at Callan last year.  The story is truly
inspiring. At the age of seventeen Edmund left the beautiful village of Callan to go towork in the City of Waterford.  There he grew wealthy, inherited the business from his uncle, married and lived happily for a time.  But then disaster struck.  Tragedy came when Mary, his wife, died leaving him alone to raise their daughter, Mary, a child with special needs.  It was at that stage, after providing for Mary, that Edmund decided to devote his life and his wealth to helping the poor of Waterford.  He established schools for poor pupils, spent his free time visiting prisons and accompanying prisoners to their executions and helping families in need.
Blessed Edmund founded two religious congregations – the Christian Brothers and the Presentation Brothers.  That is the inspiring heritage, which comes from the spiritual insight, warm heart and determined faith of Edmund Ignatius Rice.  It is a spirit that is alive and well, thank God, lived by Brothers throughout the world – men who have been inspired by the Founder and decided to devote their lives and find happiness as he did in those pursuits.
We are here today because Edmund Rice saw through the myth that material wealth brings happiness.  He was not afraid to be ambitious for the higher gifts and to follow the way of self-sacrifice and true love.
I salute the efforts of those who have identified the five key elements of his spirituality and educational philosophy, namely,
1.    Keeping the faith alive,
2.    Working together in uniting your school community;
3.    Excellence in teaching and learning;
4.    Creating a caring school community; and
5.    Inspiring transformational leadership.
I salute not only the members and Directors of the new Trust but all those who have co-operated with the Brothers in the past and who, please God, will continue to co-operate with the Trust namely, the Principals, Board of Governors, teachers and parents. Each one has an indispensible, essential part in this noble enterprise which we call 'Catholic Education'.
Last October I attended the Synod of Bishops in Rome.  It was dealing with The Word of God in the life and mission of the Church today.  One of the propositions agreed was as follows:
The task of announcing the Good News of Jesus Christ belongs to all the disciples of Jesus Christ as a consequence of their baptism.  One of the essential parts of announcing the Good News of Jesus Christ is the imparting – handing-on – of a Catholic education.
So, I call down God's blessing on all that has gone in the past on all that is here-present and on all that will be in the future.
We are here in a great missionary house – Dromantine Conference Centre of the Society of African Missions.  My hope and prayer is that through the work of this Trust which is being launched today, a new generation of people will arrive who will see that, indeed, as Edmund Ignatius Rice saw, there is a special happiness to be found in spreading the Word of God to the ends of the Earth and sharing the riches of baptism and the knowledge of Jesus Christ with those who have not yet received it.
Edmund Rice's first school in Waterford was in a renovated stable.  He lived in the spartan loft upstairs.  His new lodgings were in stark contrast to his former life as a successful and wealthy businessman.  But for Edmund, this decision was the fruit of a long period of prayer and reflection.  Inspired by his vision and mission, many joined him and together they formed a community which was built on deep faith, love of neighbour and the pursuit of justice.  That life continues to inspire people today on the five continents.  In this Year of Vocation, let us be brave enough to pray that once again such lofty ideals will find a welcome in young Irish hearts.
The lovely icon of Blessed Edmund has much to teach us, including with Mary, the Mother of Jesus, the Irish language, scenes of prayer and teaching and instruction of the faith.  Blessed Edmund was always giving of himself for the sake of others.
I have seen the fruits of that giving in many places, here in Ireland, in Rome,  in Calcutta, India. On every occasion, my heart rose in pride and thanksgiving to God for the great Blessed Edmund Ignatius Rice.
Thank you