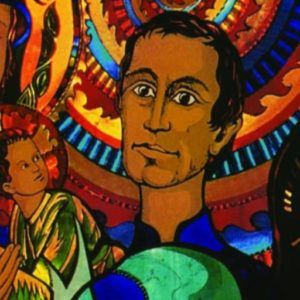 Edmund Rice was born into a farming family, under the shadow of the Penal laws, on June 1st 1762, at Westcourt, Callan, County Kilkenny, Ireland. He attended the commercial academy in Kilkenny for about two years after secretly receiving his elementary education at the local 'hedge school' in Callan. In 1779 Edmund was apprenticed to his uncle, Michael Rice in Waterford city. The business involved supplying all the needs of ships that plied their trade across the Atlantic between Europe and the eastern coast of North America. By his late twenties, through his entrepreneurial skills, he had earned enough money to make himself and his family comfortable for life.
Edmund married Mary Elliot, the daughter of a prosperous Waterford businessman, in 1786. After three short years of marriage, Mary suffered a tragic accident, gave birth to a disabled daughter, also called Mary, and died shortly after. Edmund was devastated. After a period of reflection he turned to his special vocation, which was to provide dignity for the poor, especially through education.


So, as a 40-year old widower and a successful businessman in Waterford on Ireland's southeast coast, Edmund Rice changed course radically. He was a rich merchant living in comfortable circumstances, but he was conscious of the hardship suffered by poorer people. Realising the effects deprivation had, especially on the young people of the city, he responded to their needs. He sold off his business interests and started a school for poor boys in a converted stable. He and his assistants lived in some rooms above the makeshift classrooms. In 1802 Edmund was joined by two companions, Thomas Grosvener and Patrick Finn, and the three began to live a form of community life in rooms over the Stable School in New Street.
First School 1802
For Edmund Rice, however, his teaching apostolate was only at a stage of germination. His sights were set on a fully-fledged Religious Congregation, governed by traditional vows and recognised by the Holy See in Rome. He took a crucial step towards this end when, in June 1802 he commenced the building of a monastery on an elevated site in a working-class district in Waterford City. The building, again funded out of Edmund's private resources, was large and comprised living accommodation and a school. There were two classrooms on the ground floor and, overhead, seven bedrooms which were small and sparsely furnished. They had wooden beds fitted into wall recesses; an alcove served as a wardrobe and the furniture consisted of a table and a stool. Pictured here is a well-researched model of that original building. The school at Mount Sion was built to accommodate about one hundred boys in each classroom. The Brother teaching the class was helped by the older boy 'monitors', who examined the homework and the catechism. All the boys were taught reading, writing, arithmetic and religion. With the more senior pupils other useful subjects were added, like bookkeeping, geography and navigation. The boys received special preparation for first Holy Communion and Confirmation. Each school had a library. The boys brought books home to read them to their parents who were unable to read. In this way their parents received education as well. Twenty years after the death of Edmund a beautiful monastery was built at Mount Sion in 1864. It has served as the residence of the Brothers since then. Today the Primary and Secondary Schools are on the other side of this building.
Bake House and Tailor's Shop
At Mount Sion Edmund built a bake house and tailor's shop. The children in the school were hungry. Their parents were too poor to feed them. On arrival at school each morning the boys were given freshly baked bread. This gave them the energy necessary to do their school work properly. Besides feeding the boys, Edmund noticed that the children suffered a lot from the cold, due to scanty clothing. Tailors were employed to make suits for the boys. A lady was engaged on a full time basis making shirts. The tradition of feeding and clothing the children was carried out in all the Brothers' schools. Visitors to Mount Sion are invited to visit the old bake house and tailor's shop, a true monument of Edmund's charity and his compassion for people, especially the poor.
Something New Emerging
Edmund and his companions worked and prayed together, sharing their lives and possessions in mutual support as a community. They shared a common vision where they combined a semi-monastic life with the hard work of teaching unruly boys under primitive conditions. They were focused on the poor and especially the young. The Presentation Sisters had already opened a school in Waterford city and were educating the girls. In 1808, following the example of the Presentation Sisters, Edmund and his companions took vows of Poverty, Chastity and Obedience, and devoted themselves to the education of poor boys. At this time he and his companions were known as the Society of the Presentation. In the early days, when Edmund first began to attract followers to his way of life, they formed themselves into little groups of laymen. They lived together in community, and began to follow an adaptation of the Presentation Sisters' Rule from 1809 onwards. It helped to guide their first faltering steps along the path of religious life.