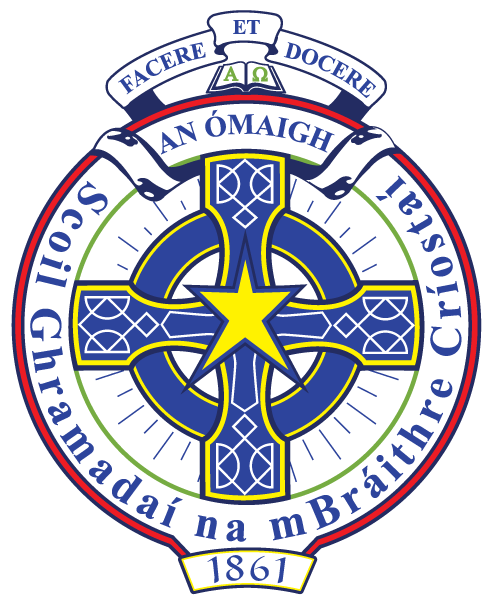 OMAGH CHRISTIAN BROTHERS GRAMMAR SCHOOL
CURRENT AND FORMER SCHOOL GOVERNORS SINCE 2009
Present Board  
Mr Paul Donnelly (Chair), Mrs Sinéad Cunningham  (Vice-Chair),
Mrs Dympna Kelly, Mrs Marianne Rodgers, Mr Liam Bradley, Dr Paul McGarvey, Mr Finnian Moriarty, Mr Liam Donnelly, Mr Conor Sally.
Former Governors
Mr Patrick McMahon (Chair), Mr Jim Sheerin,  Mr G Darby, Ms Therese O'Connor, Mrs Rita Fox, Mr Cormac McAleer, Mr Sean Meegan,  Mrs Pauline McKenna, Mrs Paula McCann,  Mrs Teresa Bradley, Dr Patrick Quinn, Mr Anthony White,  Mr Sean Darcy (Vice-Chair), Mr John Cooley (Chair), Mr Kevin Burke, Mrs Helen Quinn, Mr Joe Brogan.

STAFF , PAST AND PRESENT (Click for more information)

PAST PUPILS
Among the alumni of the school are many past and present members of the Tyrone Gaelic football Team, such as Dermot Carlin and Joe McMahon, the current manager, Mickey Harte, the esteemed writer and journalist Benedict Kiely, former BBC NI sports presenter, Jerome Quinn, World Economic Forum representative and company CEO Aaron McCormack.
Pat Chesters, Hugh Ward,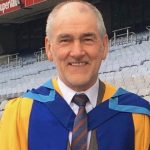 1960s (Click for more information)
Gerry Barrett, Mickey Harte, Brian McElholm, Roddy Tierney, 
1970s (Click for more information)
Seamus Arkinson, Roger Keenan, John Lilly, Sean McConnell, Tony McCourt, Finbarr McNamee,  Brian Ó Maoldúin, 
1980s (Click for more information)
Damien Anderson, Darren Barton, Cosmas Browne, Tony Colgan, Benny Cox, Chris Curran, Michael Drumm, Justin McClements, Aaron McCormack, Aiden McCrory, Noel McCrystal, Mark McElholm,  Damian McSorley, Cathal Murray, Seanie Meyler, Gerard O'Hanlon, Jerome Quinn, Cormac Strain, 
1990s
Colm Barrett, Joe Boyle, Leon Bradley, Paul Bradley, Darren Given, Fergal Grogan, Cahal Kearney, Rory Kelly-Naughton, Sean Lynn, Steven Maguire, Ronan McAleer, Damian McCarroll, Barry McCaul, Paul McCaughey, Cathal McElhone, Gerard McGirr, Jaime McGlinn, Niall McKenna, Peter Meehan, Kevin Miller, Paul Mimnagh, Jody Mitchell, Gerard Moore, Ryan Mullan, Damien Murphy, Barry O'Connor, Ryan O'Donnell, Stephen O'Neill, Jonny Skidmore, Noel Slane, Joel Smith, Stephen Smith, Cormac Strain, Damian Strain, Paul Tunney, 
2000s
Ruairí Bradley, Conor Breen, Patrick Bogues, David Campbell, Ryan Canavan, Seán Carroll, Stephen Colton, Eoin Coney, James Devine, Dermot Dillon, Raymond Dillon, Liam Dinning, Niall Donnelly, Shaun Donnelly, Christopher Eccles, Barry Flood, Conor Hannigan, Neil Harte, Niall Hollywood, Peter Hughes, Jubin Jomon, James Keaveney, Tony Kelly, Sean Kyle, Declan Leonard, Adrian Martin, Kevin McAnena, Cathal McCaffrey,  John McCaul, Danny McCormack, Cathal McCullagh, Plunkett McCullagh, Paul McCullough, Daniel McDonnell, Aaron McGinn, Niall McKenna, Aaron McLaughlin, Luke McMenamin, Dónal McMullan, Ronan McRory, Danny Melarkey, Joe Melarkey, Matthew Mullin, Gregory Murray, Aodhán O'Donnell, Ryan O Neill, Christopher Patrick, Patrick Sally, Colum Tracey, Damien Woodhead,
2010s
James Ghent, Lee McCrystall, Eoin McGread,  Cathal Ó Néill
Others
Brogan, Joe (Mr):  Head of Pharmacy and Medicines Management at the Northern Ireland Health and Social Care Board.
Carlin, Dermot (Mr):  Former Tyrone All- Ireland winner.
Collins, John (Mr): Freelance writer and multi-media contributor.
Drumm, Michael (Mr): Accountant. Owner – McElholm & Co.
McElholm, John (Mr): Teacher of PE at Edmund Rice College, Glengormley. Gaelic football coach at MacRory level with St.Mary's GS, Magherafelt and club coach/manager with Lavey, Slaughtneil, Omagh, Loughmacrory and Killyclogher.
Taggart, Martin (Mr): MA. Civil Servant. Author of  'Omagh: The Past in Postcards'.