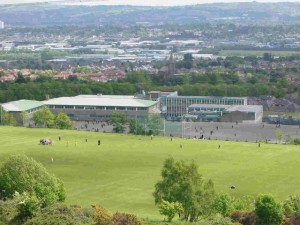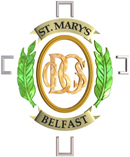 St. Mary's CBGS / Scoil Mhuire na mBráithre,
147a Glen Road,
Belfast.
BT11 8NR
Tel:   02890 294000
Fax:   02890 294009

Web:   http://www.stmaryscbgs.com
Facebook: St Mary's
Principal:   Mrs Siobhán Kelly
Chair of the Board of Governors:   Mr Seán Mahon
The original school was on Divis St., Belfast and managed by the Christian Brothers from 12th November 1866. A purpose-built secondary school was opened in Barrack St in 1929.  Because of the shift in population and the great demand for the school, St. Mary's, Glen Road opened in 1968. Barrack Street remained in use until 1998 when all the Simmarians were accommodated in the greatly extended school on the Glen Road. 
 St. Mary's Christian Brothers' Grammar School proudly proclaims itself as an Edmund Rice School in the Catholic tradition. We strive to live out the teachings of Christ and recognise the uniqueness of each member of our school community as children of God.  We model ourselves on the example of Blessed Edmund by promoting faith, generosity and selfless service to others.
 Investors in People Award
At a reception in Belfast Castle,
the Bronze Award for Investors in People was made by
Derek Baker, Permanent Secretary of the Department for Employment and Learning,
to St Mary's CBGS.
Social Justice Advocacy Group,
St Mary's CBGS, visits Stormont
(June 2016)
Our school represents people from a large variety of backgrounds. Our student body is made up of people from all different ethnic minorities as well as socio-economic classes. However, we in St. Mary's believe in reaching out to those beyond our own school grounds. As Mr Herron (one of the leaders of our Social Justice Advocacy group) pointed out, our role is to offer education beyond borders.
StM1For the past few months our social justice group has been meeting together to help spearhead a campaign to reduce homelessness on our streets, with our main goal having been to try and raise awareness of such a major concern. The school wrote to Minister Paul Givan, Minister for Communities and invited him to come to our school to receive over 600 letters written by our students asking what he and his department plan to do to address the issue of homelessness in our society. The Minister was unable to visit St Mary's but invited a delegation of the Social Justice Advocacy Group to visit Stormont and meet with him. Today we met with Paul Givan, Minister for Communities and the man ultimately responsible for homelessness in Northern Ireland.
We were offered the chance to put many questions to the minister during our meeting with him at Parliament Buildings, during which we handed over more than 600 letters from students curious as to what the Executive is doing for our homeless.
Fionntan Austin, a Year 10 student, asked the minister why it had taken four deaths on our streets for homelessness to become a priority. He replied that homelessness has always been a priority for the executive and that it is always looking towards new ways of tackling the issue. But surely a problem with the might and the power of our lawmakers behind it would long be history had they truly been acting to prevent it?
I myself put the views of the Charted Institute of Housing to the minister. Its Director told the press that our legislation in relation to housing and homelessness is largely inferior to Scotland and Wales, and that a review by the executive was essential in helping to improve our StM2"inadequate" laws. He in return shared with me the different levels of homeless from "sofa surfing" to rough sleeping and assured me that the Executive was always looking at news ways through which to tackle homelessness.
But clearly we need to do more, if the executive is regularly tracking the issue of homelessness then why are more than 19,000 people still registered with the Housing Executive as not having a place of their own? For this reason, Mr Herron asked the minister what role we as young students have to play in attempting to address this problem. Mr Herron extended an official invitation on behalf of the school to Minister Givan to visit St Mary's in December in the run up to our annual homeless appeal and a time when our school is very active in supporting the marginalised in our society.
Politicians aren't often perceived as being sincere, and many would agree that they don't operate to try and better society for everybody else. Minister Givan was very welcoming to our students and very engaging in the discussion providing very forthright answers to the questions asked. However, if the Minister is really prepared too, then we may be one step closer to helping to get the thousands of rough sleepers off of our streets.
Tiernán McCarthy.