STAFF


Crummey, Malcolm (Br) RIP: Former Principal

Hunter, Raymond (Mr): Last Principal of St Aidan's
Maynes, Raymond (Br): Former Principal
McIntyre, Marie (Ms): Former Vice-Principal
O'Reilly, Fergus (Br): Former Principal
PAST PUPILS
McIntyre, Colm (Mr): Teacher of Chemistry, Sligo.
McIntyre, John (Mr): Radiographer.
McIntyre, Seamus (Mr): Global Operations Director, Vista, Asia.
McIntyre, Thomas (Mr): Bank Officer
Ryan, Michael (Mr): Vice-President and General Manager of Bombardier, NI.
St. Aidan's CB PS (Closed 31st August 2013)
St. Aidan's Christian Brothers Primary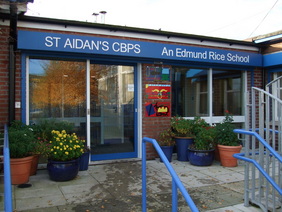 St Aidan's Christian Brothers Primary amalgamated with St Bernadette's Primary on 1st September 2013. Mr Raymond Hunter is the Principal of the new John Paul II Primary. 
The Edmund Rice Schools Trust are the Trustees of the new school and will work in close collaboration with the Parish of Corpus Christi.
St. Aidan's CBPS 'Beyond 250′ Appeal Fund-Raiser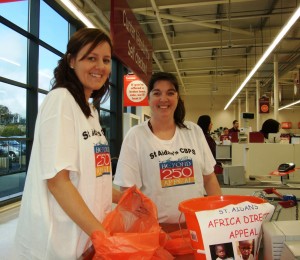 On Saturday,10th November 2012 staff, parents and family members launched an attack on Sainsbury's largest NI store to raise funds for the 'Beyond 250′ Appeal Fund. We arrived as a team in our white t-shirts with the appeal logo emblazoned across the front to ensure that customers were aware that this was a charity event.
As Principal, I have, shall I say, 'limited experience' of such a complex and stressful experience as bag packing! When sausage rolls run off a conveyor belt, swiftly followed by bleach and then a fresh pizza with a birthday cake hard on its heels followed by a birthday card, this bagging lark becomes serious matter – especially when panic sets in as new bags refuse to separate under shaking hands!
 "Thanks very much: your bottles have been double bagged; your biscuits are on top; your frozen goods are in one bag – and your eggs sit triple-wrapped in front trolley compartment…"
This was my typical send off after some change was placed in our bright orange buckets.
In all, we enjoyed the banter with customers during a 6 hour shift manning 10 checkouts. What stunned us was the generosity of customers – and this only became evident after counting took place on Saturday night.We expected to upload perhaps a few hundred pounds to the appeal; the final figure came out at a stunning £1356! This was proof that our blitz type approach worked.
A special thanks to Sainsbury's for allowing us to carry out this fund-raiser; more importantly, great praise to all our volunteers who helped on the day. There really is no limit to what can be achieved when a school community works together.
Customer Notice
Apologies to the lady who ended up with bleach-flavoured pastry for supper!
*****************************************************************************************************************************************************************************************
RAISING BOYS' ATTAINMENT  Link to video
Raymond Hunter, principal of St. Aidan's Christian Brothers' Primary School in Belfast, provides ESaGS Tv with an insight into how his school are creating a learning enviroment that takes account of the latest research into how boys can learn more effectively.  
*****************************************************************************************************************************************************************************************
The EDUCATION AND TRAINING INSPECTORATE carried out monitoring visits and a follow-up inspection on 1 June 2011.
"The following are the most important improvements since the focused inspection:
the sharper focus of the school on improving the quality of learning and teaching, and onraising the children's standards of attainment in basic literacy and numeracy;

the good account taken of current research into how boys learn better;

the establishment by the Principal of an effective framework for the systematic monitoring of teaching and planning, and the evaluation of the children's progress through sampling their written work;

the implementation of a regular programme of classroom observations and a comprehensive action plan to address and support identified areas for improving teaching;

during the follow-up inspection, the overall quality of the teaching was good;

the increased emphasis on the teachers' continuous professional development and the effective sharing and discussion of good practice;

the strengthened and extended role of the subject co-ordinators who review regularly the teachers' planning and the children's work;
the effective use of data to monitor the children's progress in literacy and numeracy, to set realistic targets and to effect interventions where required;
the comprehensive action plans for reading and writing and for the application of mathematics to real life situations;
the useful links established by the acting Vice-Principal with other primary schools to support developments related to special educational needs; and
the close match of the children's work to their needs and abilities, including targets that are set for improvement and the systematic monitoring of the children's progress.
In the areas inspected, the quality of education provided by this organisation is now very good. 
The organisation is meeting very effectively the educational and pastoral needs of the learners; and has demonstrated its capacity for sustained self-improvement."