FORMER STAFF
PRINCIPALS:
J D McDermott (Br): First Principal.
Raymond Maynes (Br)
Fergus O'Reilly (Br)
Malcolm Crummey (Br)
Raymond Hunter (Mr): Last Principal of St Aidan's


TEACHERS:

Jim McCann (Mr):
Marie McIntyre (Ms): Vice-Principal
Paddy McKavanagh (Mr):
Carmen Morrisey (Ms):
Gerry Murphy (Mr): T

 
PAST PUPILS
McIntyre, Colm (Mr): Teacher of Chemistry, Sligo.
McIntyre, John (Mr): Radiographer.
McIntyre, Seamus (Mr): Global Operations Director, Vista, Asia.
McIntyre, Thomas (Mr): Bank Officer
Ryan, Michael (Mr): Vice-President and General Manager of Bombardier, NI.
St. Aidan's CB PS (Closed 31st August 2013)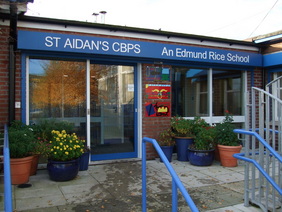 St Aidan's Christian Brothers Primary
amalgamated with St Bernadette's Primary on 1st September 2013.
Mr Raymond Hunter is the Principal of the new John Paul II Primary. 

The Edmund Rice Schools Trust
are the Trustees of the new school and work in close collaboration
with the Parish of Corpus Christi.