Christian Brothers School,
Glen Road
Belfast
BT11 8BW

Tel: (028) 90808050
Fax: (028) 90808055

E-mail: info@cbsglenroad.com

Web: http://www.cbsglenroad.com/

Principal: Ms Bronagh Farrimond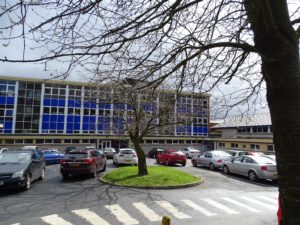 The school opened on the 3rd September 1962 and celebrated the 50th anniversary 2012.
"Not just a school but a learning community"
"As CBS heads towards its 50th year it is time to take stock and acknowledge the vital role the school has played in the community and in the lives of its pupils."
In November 2007 the school was proud to be the recipient of The Aishling Award for Outstanding Endeavour. It was recognition for the hard work and commitment of both staff and pupils.
Post Primary education has changed in recent years and CBS has led the way, embracing new ideas and meeting challenges head on. Education is evolving with the demise of the transfer test and CBS stands ready to meet the needs of all its pupils well into the future.
"One of our main successes over the years has been our development of a learning community, involving educators from the non teaching professions. This innovation has provided an invaluable support for our pupils and staff and has fulfilled a target of taking education beyond the classroom doors in the interests of all our community of pupils parents and staff"
Tom Armstrong, Principal.
PRIZEGIVING 2015
The annual prizegiving event was held on Thursday, 10th December 2015.
Academic, sports and endeavour awards were presented to the pupils of last year in all year groups.
Former pupil, Stephen Toman, was the Guest Speaker. Stephen left the school in 1997.
He is a celebrated chef and he, and his restaurant, "OX", have collected numerous awards and accolades, including –
One Michelin Star (2016),
World's 50 Best Restaurants (2015),
Menu of the Year, Catey Awards (2015),
Restaurant of the Year, Ulster Tatler (2014 and 2015),
Chef of the Year, Food and Wine Magazine (2015),
Best Chef Ulster,
Food and Wine Magazine (2013, 2014 and 2015)
Best Chef of the Year, Irish Restaurant Awards (2013 and 2014)