ST MARY'S CHRISTIAN BROTHERS SECONDARY/GRAMMAR SCHOOL
(Divis Street, Barrack Street  and Glen Road)
PAST AND PRESENT SCHOOL GOVERNORS (building) 
PAST AND PRESENT STAFF (Click for more information) (building)
PAST PUPILS – 1866 TO PRESENT    (Click on the decade for more information.)  
1880s
T.J. Campbell, Joe Devlin, George Martin, 
1890s 
Albert Sharpe, Sean MacEntee, Michael Mac Conaill, Moses Rosenberg, 
(Click on the decade for more information.)
1910s
James Anthony Burke, Patrick Joseph Burns, John Paul Davy, Patrick Joseph Foley, Philip Greenan, Farrell Dolan, John Francis Logue, Philip Joy Magee, Patrick McCarthy, Hugh McClure, Philip McKeever, John McCusker, Joseph McEntee, Andrew McGeary, Niall O'Boyle, Peter O'Boyle, Charles O'Neill, Lewis Orange, Moses Resenberg, Charles Trodden, John Malachi O'Kane, John James McDowell, Philip Karl Gordon, Edward Bogan, Thomas Joseph Braniff, John Bonaventure Carolan, John de Largy, Francis Donegan, Alexander Leo Donnelly, James Francis Doyle, Peter Michael Faughnan, John James Graham, Robert Gunning, Thaddeus Hayes, Joseph Higgins, Thomas Keagan, Charles Keenan, Henry Anthony Kinnane, 
1920s
Gerald Cavanagh, Patrick Charleton, William Conway,Thomas Cunningham, Myer Gordon, Hugh Harte, James Kelly, James P Kelly, Seamus B Kelly,  Brian McGuigan, Vincent Timoney, 
1930s Click for more information
Charles Bready, Edward John Campbell, Michael Rory Campbell, Arthur Charleton, John Charleton, Joseph Charleton,  Patrick Charleton, Peter Charleton, Terence Charleton, Joseph Benedict Clancy, John Anthony Clarke,  Joe Conway, Thomas Corr, Thomas Charles Gerard Courtney, Fred Delaney,  Vincent Denny, Henry Gorman, Henry Gribben, Henry Gunning, Fred Hanson, James Havern, Joseph Hill, Brendan Hughes, John Andrew Irvine, Malachy Jackson, Joe Kavanagh, Hugh Redmond Kelly, Michael Kelly, Thomas Keville, Jonah Lazarus, John Leydon, Richard Linehan, Myers Fisher, John Irvine, Maurice Irvine, James Maginness, Denis Maguire, Joseph Maguire, Maurice Maguire, Patrick McAleese, Robert McComish, Brendan McCreesh, Thomas G McDonagh, Joseph McEvoy, John McGreevy, Patrick McGrogan, Patrick McFarland,  Eugene McRandall, Thomas Miskelly, Alf Murray, John Murray, Peter Murray, Patrick O'Donnell, Terence O'Hagan, Arthur O'Friel, Brian O'Kane, Patrick O'Neill, Gerald Peyton, Isadore Reuben, Bernard Rooney, William Tohill, Murty Toolan, Basil Wilson
1940s
Gerry Burns, Eugene Butler, Thomas Bartley, Joseph Conway, James Foody, Paddy Foody, Edward Havlin, Jim Lally, Daniel Mac Randal, Brendan McMullan, Kevin McMullan, Brendan Murray, Jack O'Doherty, Raymond Shearer, Daniel Tracey, Patrick Walsh, 

1950s
Harry Casey, Maurice Clint, Michael Curran, Noel Conway, Nigel Cushley,  William A (Liam) Conlon, Bernard E Devenny, Frank Dolaghan, Seán Donnelly, Jim Dougal, James Dunwoody,  Paul Dunleavy,  Ciarán Dynan, Muredach Dynan,Tom Gough, Joe Hennessy, Bernard D Kerr, Matt Leydon, Vincent McBrierty, Finbarr McCallion, Sean Declan McCartan, Daniel V McCaughan, Gerry McCrory, Conal McKeith, John Murphy, Edwund A Parslow,  Éamann Ó Ruairc, Paul Quinn,  John Watson, Tony Whitehead
(Click on the decade for more information.)
1960s
Gerry Adams,  John Adams, Anthony Alexander, Paul Alexander, John Allen, Kieran Austin, Tom Bartlett, Eamon Berne, Vincent Brennan, Tony Caher, Ciarán Carson, Harry Casey,  John Conlon, John Cooley,  Jim Corrigan, Gerry Cullen, Phil Cullen, Paul Curran, John Cushnahan, Kevin Delaney, John Devine, Jim Devine, Michael Devine, Frank Donnelly, Tom Donnelly, Jim Dougal, Finbarr Dynan,   John Ferrie, Pat Finucane, Oliver Frawley, Tom  Frawley, Aidan Hamill, Eamon Hamill, Will Hodgkinson, Jack Hughes, Brendan Jackson, Terence Jackson, Gerry Kelly, Oliver Kelly, Seamus Kennedy, Martin Lynch, Mícheál Mac an Airchinnigh, Ruairí Mac Gráinne,  Séamus Mac Mathúna, Peadar Mac Muiris, Robert Maguire, Gerry Mallon, Fergus Manning, Martin McAleese, Sean McCann, Gerry McClory, Brendan McConvery, Michael McEntee, John McGrath, Michael McLean, Richard McLoughlin, Micheál Ó Máirtín, Harry O' Prey, Rory O'Prey, Jim O'Reilly, Gerry Patton, Éamon Phoenix, Paddy Rogan, John Rowan, Chris Ryder, Jim Sheerin, Paul Sloan, Paschal Taggart, James Thompson, John G Tohill, Pat Ward, Seán Ward, Gerry Wilson,  
Gerard (Gerry) Adams, Pat Armstrong, David Bannon, Tom Battisti, John Barry, Paul Barry, Rónán Bennett, Sean Bennet, K. Boylan, Steve Brankin, T. Breslin, Paul Clarke, Eddie Collins, Paul Cooper, Paddy Coyle, Ray Coyle, Kevin Crozier, Malachy Crudden, P. Crummey, Gerry Cullen, Michael Darragh, Dermot Diamond, C. Donnelly, Dessie Gallagher, John Gallagher, Ray Giffen, Terry Goldsmith, Kevin Gough, Michael Graham, Paul Growcott, Paul Haughey, Brendan Heaney, John Hopkins, John Hughes, Liam Jennings, Philip Johnston, Paul Kennedy, John Larkin, Charles Lenfestey, Paddy Mallon, Thomas Marley, Gabriel McCaffrey, Martin McCarthy, Brian McCarthy, Gerard McCloskey, Colm McConville, Frank McCrory, Gerry McFadden, Kevin McFerran, P. McGowan, Michael McGranaghan, Joe McGuinness, Gerry McHugh, Seamus McHugh, Paddy McIlhatton, Eugene McKenna, John McKiernan, Paul McKiernan, Gerry McQuillan, Paul Mongan, John O' Doherty, Donal O'Donnell, Turlough O'Donnell, John O'Hara, Kevin O'Loan, Gearóid Ó Muilleoir, Máirtín Ó Muilleoir, P. O'Neill, Joe Nellis, Steve Prenter, Pat Rice, Michael Ryan, Sean Sands, Kevin Shannon, Phil Sheppard, Conor Smith, Michael Smyth, Jim Somerville, Michael Spence, Gerard Stafford, Terry Stewart, Frank Toman, Tom Totton, Canice Ward, Hugh Wasson, Joe Wilkinson, 

1980s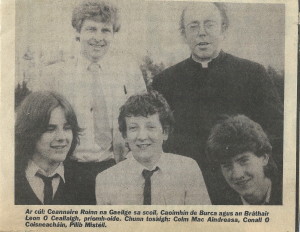 Brendan Adams, Damien Armstrong, Brendan Austin, Ciarán Barr, Damian Barr, Tim Bartlett, John Bateson, Seamus Blaney, Haydn Boyle, Gerard Broderick, Brendan Campbell, Philip Cassidy, Fintan Convery, Ciaran Crozier, Aidan Doherty, Michael Doherty, Seán Doran, Donagh Finnegan, Shane Finnegan, Robert Gamble, Ciaran Hanna, Ronan Heenan, Tommy Hill, Christopher Hogg, Jim Hughes, Barry Kelly, Sean T Kelly, Terry Lacey, Aidan Lambe, Gerry Lundy, Colm Mac Aindreasa, Sean Mahon,  Ray Matthews, Patrick McCarry, Declan McCavana, Tim McCarthy, Michael McCoy,  Gareth McCormick, Mark McCrory, Stephen McCrory, Terry McCrudden, Joe McDonald, Conan McDonnell, Michael McGarrigle, Hugh McGettigan, Frank McGonagle, Conor McGurk, Billy McKenna, Eugene McKenna, Neil McKenna, Tyrone McKenna, Colm McIntyre, John McIntyre, Seamus McIntyre, Thomas McIntyre, Pete McKay, Thomas McKeever, Michael McKenna, Niall McManus, John McMorrow, Pilib Mistéil, Danny Moore, Larry Murphy, Pól Ó Dochartaigh, Luke O'Doherty, Marcus O'Doherty, Simon O'Doherty, Séamas Ó Donnghaile, Pól Ó Muirí,  Frank O'Neill, Terry Park, John Pelan, Martin Reilly, Eamon Rooney, Martin Short, Gareth Taylor, Sean Thompson, Mark Trainor, Cormac Ua Bruadair, Diarmad Ua Bruadair, Dermot Walsh, Jim Winter, Tony Woods, Francis Zubier

(Click on the decade for more information.)
1990s
Gerard Armstrong, Cormac Austin, Alan Beare, Gavin Bell, Ollie Bellew, Conor Burke, Gary Caldwell, Liam Clarke, Eamonn Connolly, James Connolly, Conor Corbett, Donal Deery, Gareth Devlin, Tony Devlin, Tony Donnelly, Ciarán Dougherty, Kevin Elliot, Colm Fanning, Peter Fay, Johnny Flynn, Gary Finnegan, Conor Forde, Kevin Gamble, Colin Hugh Gormley, Christopher Hamill, Sean Kelly, Conor Kennedy, Michael Kettle, Conor Lamb, Raymond Lawlor, Ronan Leyden, Barry Lyttle, Niall Maguire, Gerry May, Stephen McCrory, Paul McEntee, Rónán McGlue, Conor McKenna, Enda McKenna, Sean McLaughlin, Brendan McVeigh, John Molloy, Mark Mulholland, Denis O'Donnell, Chris O'Reilly, Séamus Ó Tuama, Michael Quinn, Sean Quinn, David Robinson, David Smyth, Patrick Toal, Paul Toal, Sean Toal, Patrick Vallely, Paul Whinnery, 
2000s
Paul Acheson, Deaghlan Agnew, Dermott Agnew, Hayden Allen, Thomas Barnes, Ciaran Barr, David Boyle, Mark Bradley, Paul brennan, Rónán Burke, Ronan Campfield, Gareth Clarke, Kevin Clarke, Ciarán Coyle, Conor Diamond, Ciaran Dines, Michael Dines, Christopher Diver, Brendan Dynes, Sean Finch, Adrian Finnegan, Sean Flynn, Fionntán Gamble, Christopher Gilmartin, Michael Herron, Paul Hesketh, Daniel Hill, Conor Kearney, John Keatings, Raymond Kinnaird, Niall Larkin, Patrick Larkin, David Loughran, Mark Loughran, Paul Loughran, Stephen Loughran, Brendan Lundy, Damien Lynch, David Lynch, Darren Madden, Andrew Magee, Damian Martin, Micheál McAughey, Michael McCafferty, Michael McCarthy , Ronan McClean, Paul McCormick, Stephen McCormick, Gerard McGettigan, Rónán McGinley, Conor McGoldrick, Sean McHugh, Aidan McKiernan, Micheal McMahon, Ciaran McManus, Rory McManus, Paul McMullan, Conor McQuade, Francis Mezza, Michael Mohan, Maurice Murphy, Paul Murtagh, Conor McNeill, Michael McNeill, Ciarán Ó Brolcháin, Cairbre Ó Cairealláin, Mark O'Hara, Christopher O'Kane, Jonathon O'Reilly, Brendan Quinn, Ciarán Quinn, Conor Quinn, Christopher Toal, Nicholas Tracey, Darren Ward,

2010s

2013
Michael Anderson, Danielius Banys, Daniel Barr, Paul Bell, Brendan Bennett, Chris Boyle, Ruairí Boyle, Michael Bradley, Matthewe Brennan, Paul Brennan, Kyle Brown, Conor Browning, Ronan Campbell, Sean Campbell, Simon Campbell, James Carson,  Matthew Cassidy, Eoin Connolly, Kevin Connolly, Daniel  Cosgrove, Caoimhín Cullen-O'Neill, Joseph Cunningham,  Christopher Devine, Conor Devlin, Niall Devlin, Ciaran Doherty, Ciaran Doherty, Daniel Doherty, Cris Donegan, Jack Dorrian, David Durkan, John Elliman, John Erskine, Peter Ferguson, Ruairí Fisher, Niall Fitzgerald,  Aidan Fitzpatrick, Mark Fitzsimons, , Patrick Graham, Aidan Grant, Anthony Harte, Brendan Haughey, Conor Heath, Ben Hesketh, Pádraig Holmes, Stephen Hughes,  James Keenan,  John Keenan, Conor Kelly, Matthew Kerr, Bibinross Kudilil, Christopher Larkin, Conall Lynagh, Mark Lyons, Ciaran Mac Allister, Peter Maguire, Sean Maguire, John Mallon, Caolan Malone, Thomas Manning, David Mason, Gavin Matthews, Ciaran McAnulty, Daniel McBride, Ryan McBride, David McCabe, Michael McCabe, Darren McCann, John McCann, James McComish, Connor McCreanor, Thomas McCrory, Raymond McGeogh, Jackson McGreevy, Conor McGuigan, Lorcan McKeown, Daniel McKernan, Patrick McQuillan, David Meehan, Curtis Millen, Domhnall Moran, Kieran Mulholland, Ciaran Murdock, Aidan Murphy, Darragh Murphy, Mark Napier, Caolan Ó Coisneacháin, Tomás Ó Ciaráin, Hugh O"Halloran, Conor O' Kane, Seamus O'Kane, David O'Neill, Eamon Parker, Domhnall Quinn, Kevin Quinn, Peter Rainey, Conor Rooney, Donal Rooney, Stephen Rooney, Mark Scott, Padraig Scott, Conal Sheppard, Daniel Sloan, Déaglán Smart, Colm Smyth, Conor Smyth, James Smyth, Ciarán Stewart, James Stuart, Kevin Taggart, Lee Taylor, John Toner, Stíofán Trainor, Jody Traynor, Pearse Vallely, Anthony Varndell, Ciaran Vernon, Michael Vernon, Pádraig Walsh, Piaras Webb, Ruairí Wilson, Anthony Wilson-O'Neill, Daniel Winchester.
Michael Agnew, Calin Allingham, Anthony Allsop, Neil Armstrong, Daniel Boyd, Jack Doyle, Cormac Bradley, Keelan Brady, Pádraig Brady, Conall Brazier, Aidan Campbell, Aidan Churchill, Ciaran Churchill, Mark Cleary, Daniel Collins, Michael Conlon, James Connolly, Aidan Cregan, Nathan Crudden, Ryan Daly, Paul Devlin, Conor Doran, Luke Doyle, Joseph Dunniece, Aaron Fairley, Emmet Fallon, James Farrell, Gary Farrelly, Matthew Fitzpatrick, Ciaran Gallagher, Gareth George, Brian Gibney, Anthony green, Caoimhín Hanna, Cormac Hannan, Aaron Harbinson, Stephen Healy, Tiarnán Healy, Diarmuid Hillock, Niall Hughes, Sean Irvine, James Irwin, Connell Jackson, Adam Jones,  Caoilin Kearns, Conor Kehelly, Anthony Kelly, Ciaráin Kelly, Luke Kelly, Conor Kerr, Nathan Lavery, Barry Lawlor, Brendan Loughran, Conor Loughran, James Lynn, Kevin Madden,Matthew McBride, Paul McCourt, Darren McDonagh, Conor Murdock,  Gary Murphy, Robert Murtagh,  Martin Reid, Jordan Adam,
2015
Paul Barnes, Conall Breathnach, Mark Chernek, Damien Christian, Mark Christie, Colm Crothers, Sean Doyle, Pearse Fitzsimons, Jamie Forsythe, Nathan Hanna, Gareth Hill, Steven Jackson, Ciaran Jordan, Eoin Kearney, Brian Kennedy, Liam Laverty, Ciaran McCartan,  Conchur McCullough, Robert McFall-Jackson, Eoghan McKenna, Karl McGeough, Sean McGlone, Gary McPolin , Pádraig Meryvn, Aaron Murphy, Déaglan Murphy, Adam Perry, Christopher Raffo, Pierce O'Rawe, Jude Reilly, Ryan Pendleton, Adam Perry,  Jay Smith

OTHERS
Blaney, Seamus (Mr): Owner of Onion Print, Denver.
Casey, Mr: From Lurgan.
Donnelly, Tony (Mr): Managing Director, Northern Property.
Hughes, Leo (Very Rev. Prof): Orlagh College (Dublin).
Kelly, Gerard (Mr): From Lurgan. Former school principal.
Kelly, Pat (Mr): From Lurgan.
Mawhinney, (Mr): From Lurgan.
McCarron, Paul (Prof):
McMahon, Mr: From Lurgan.
O'Kane, Sean (Mr): Optometrist. Irish Traditional Tutor, St Mary's CBGS. Member of the group McPEAKE.
Tipping, Mr: From Lurgan.
Turley, Daniel (Mr): Chartered Accountant. Audit Executive, Ernst and Young.
Ward, John (Mr): Director, Crown Castle Ltd, Stratford upon Avon.
Weir, Richard QC (Mr): Barrister.
Dr. Neil McKenna, (PhD) Asst. Professor of Cell Biology, Baylor College of Medicine, Houston, Texas
Mr. Eugene McKenna (LLB) Barrister-at-Law.
Mr. Tyrone McKenna (LLB, PG.Dip International Law, MSc), Co-ordinator at Saudi Aramco, KSA