The Year 7 boys from Edmund Rice Primary 

recently attended the De La Salle Pastoral Centre on the Glen Road, Belfast.
Here they enjoyed a positive faith and explored their potential for spiritual growth.
The retreat is an annual event and is a break from the routine of everyday school activities.

The boys are given the opportunity to look deeply at their own lives
and the nature of their own belief.
This is done through games, discussion, craft-activities, prayer and liturgy.
GOSPEL VALUES IN ACTION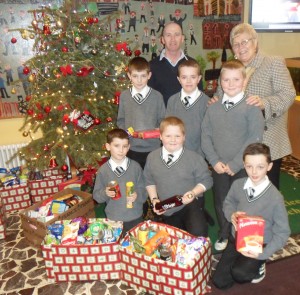 Mr Donnelly and the Primary 6 group, as part of the Edmund Rice Awards scheme, have been involved in promoting 'Trócaire : Gifts of change' by raising awareness about the causes of global poverty to their fellow students. The boys have also been busy collected food and toiletries that were presented to St Vincent de Paul Representative, Mrs McBurney, to distribute to families in the community.