Edmund Rice College Prize Night 2013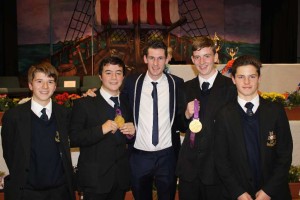 Edmund Rice College
celebrated it's annual prize night
on Thursday 24th of October, 2013.
SPECIAL GUESTS 
Michael McKillop
Former Pupil and Paralympic Gold Medal Winner
Mandy McDermott MBACP & Jim Sheehy MBACP
Achieve NI Education and Counselling
HIGHLIGHTS OF THE YEAR
We celebrated our best ever GCSE examination success when 83% of our Year 12 pupils attained 5 or more GCSEs at grades A*-C. This is by far the highest of any non grammar in North Belfast.
98% of Year 12 pupils achieved 5 or more GCSE grades A*-G.
Sixth Year Art Students volunteered to paint Christmas windows at a number of locations including the Northern Ireland Children's Hospice, Tescos, local banks and shops.
The annual Art Exhibition was a massive success as always. This year artists from our Extended Schools art club, taught by Mr Rafferty, again exhibited their work as well as the GCSE and A level students. We were joined on the evening by the Mayor of Newtownabbey, Alderman Fraser Agnew.
40 Year 9s and Year 13 supervisors spent 3 days in Paris sampling the adventures of Disneyland theme parks and village and then a day sight seeing around Paris. Great memories for all involved
15 adults from Mr White's Irish class completed their 'Fáinne' exam.

We have recently had two indoor One Wall Handball courts installed and on November 11th we will host our first ever Ulster GAA One Wall Tournament for Colleges.
 20 of our current Year 13 pupils passed their Maths GCSE in Year 11 and 15 of those went on to achieve a GCSE in Further Maths in Year 12. To put that in context, most of these students were written off by the system as failures at age 11.  This success is not only a testament to their hard work but also to their resilience and self belief, not to mention the hard work of the Maths department
Year 10 won Ennis Cup and boy did they do it in style!!  The scorelines speak for themselves:
Danske Bank Ennis Cup semi-final : Edmund Rice College Glengormley 8-14  St Bridget's Armagh 5-7
Danske Bank Ennis Cup final : Edmund Rice College Glengormley 9-19
St Joseph's Donaghmore 10-9 (AET)
That is a staggering 17 goals scored in two matches!
Mr Berne and Mr McCourt coached ERC U18's to the Northern Ireland Shield. 
12  Sixth Year students were awarded their mentoring certificates from Achieve NI.
James Proctor in Year 13 was chosen as one of only 12 from 900 applicants to represent Ireland in the USA and Canada at the recent Key Camp Conference.  This is a cross community/cross border conference where the successful Irish contingent competed with other young people from around the world.
Year 9's worked with the BBC and visited Solitude to interview Conor Devlin on the role that ERC had in influencing his career in sport.
A team from Year 9 came 2nd in the Tráth na gheist Irish quiz in the Falls Leisure Centre against stiff competition from some other Irish Medium Schools.
Congratulations to our Student Council who competed in the Lisburn Fun Run joined by a few members of staff and raised £200 for Stepping Stones a charity for learning disabilities.
The Student Council also ran an anti-litter campaign.  Keep up the good work.

Special Merit Awards

BEST OVERALL PERFORMANCE IN GCSE

Art & Design: Daniel Sefton. English: Ruairi Geehan. Drama: Ruairi Geehan. French: Dean Doyle O'Hare.
Geography: Ruairi Geehan. History: Michael Cahill. Home Economics: Jordan Kearney. ICT James Proctor.
Irish: Caoimhin Osborne. Learning for Life and Work: Jordan Kearney. Mathematics: Dean Doyle O'Hare.
Motor Vehicle Studies: Seamus Dobbin. Science: Ruairi Geehan. Technology & Design: Glenn Rochette.
(to be continued)