Wednesday 6th March 2013
The MAC, Belfast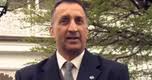 Brother Philip Pinto cfc (Congregational Leader of the Christian Brothers) presented a challenging and inspiring talk on 
and Gita Jena (Trócaire's Governance and Human Rights Programme Officer in India) outlined the work of Trócaire in India.
The event was chaired by Séamus McKee.
There was a full-house in attendance including senior students from Edmund Rice College,  St Mary's CBGS, La Salle College and St Genevieve's College.
Philip recently visited Ireland at the invitation of Trócaire. He delivered the keynote address in Maynooth on March 5th to celebrate the 40th anniversary of the foundation of Trócaire. He also travelled to visit Northern Ireland and the efforts made from there by the organisation to assist the developing world. Again he delivered an inspiring and challenging address.
While in Belfast, Philip visited the Brothers' communities at An Dúnán, Glen Road, and on the Crumlin Road where he was delighted to meet all of the Brothers and especially George Gordon after his recent return to the city. He visited the offices of ERSTNI and the Open Doors Centre at Barrack Street. On his way back to Dublin, Philip visited the new school in Newry and attended a concert in aid of the school's immersion project in Zambia. Eleven boys and four teachers were about to leave for the immersion experience in Livingstone where they will be until Easter Sunday.
It was inspiring to see such a full attendance of over 500 people at the concert in Newry to support the developing world project. The star attraction here was "The Priests" who offered their contribution as an offering to the poor people of the developing world. One of them had earlier attended Philip's talk in Belfast.