Prior to the Annual Foundation Lecture on the 29th March '17

Most Reverend Bishop Patrick J Walsh
was awarded the
Edmund Rice Medal.
CITATION
Most Rev. Patrick J Walsh, Bishop Emeritus of Down and Connor Diocese, has made exceptional contributions, over a long period, to leadership roles in Catholic Education in Northern Ireland and further afield.
Following his primary and secondary education in Christian Brothers Schools in Belfast,
Bishop Walsh studied at Cambridge University, Queen's University and the Pontifical Lateran University, Rome, achieving distinction in a range of scholarly disciplines, including Theology and Mathematics.   Following periods in educational roles as teacher and University chaplain, he was appointed as President of St Malachy's College, a position he occupied from 1970-1983.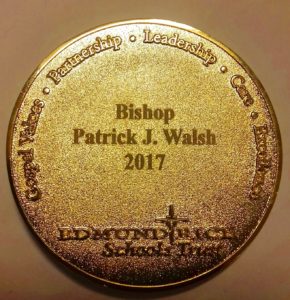 As Auxiliary Bishop of Down and Connor Diocese from 1983, then Bishop from 1991, Bishop Walsh continued in key educational leadership roles including Chair of the Board of Governors of  St Malachy's College and a Trustee and Chair of the Board of Governors of St Mary's University College.  As a key policy-maker for Catholic Education in Northern Ireland, his thoughtful and scholarly approach, combined with skills as negotiator with Department officials and Government representatives ensured that Catholic Education maintained a very strong presence, with an emphasis on quality outcomes for all students.
His breadth and depth of knowledge on matters educational were complemented by his incisive thinking and strategic vision.  He has shown unfailing generosity with his time and effort on behalf of Catholic schools, including active support for the work of ERST schools in the Diocese.
Throughout his many years of demanding ecclesiastical and educational roles he has been motivated by a deep personal faith and a commitment to serve the community.