DONATION TO MARY RICE CENTRE, NAIROBI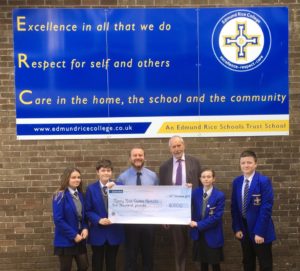 The 17th October 2019 is designated as the International Day for the Eradication of World Poverty.
With this in mind, it was with great pride that the pupils of our top fundraising class, 9LK,
made a presentation to Mr John Cooley from the Edmund Rice Development Board in the sum of £6000.
This represented the total raised by the pupils over the course of our last school year. Last year we decided to focus our fundraising to support a specific project being funded by Edmund Rice Development.
We chose to support the Mary Rice Centre in Nairobi.
This is a fantastic project which works to educate and support children who have additional learning needs.
The Centre supports children with disabilities through basic learning skills, vocational skills, therapy services and outreach program.
It also supports the parents of the children through skill training and income generating activities
in bead work, tailoring and dressmaking.
The Centre mission statement really encapsulates the ethos of the worldwide community of Edmund Rice schools –
"Our Caring Hearts Build Hope."
As a college we were very proud of the total that was achieved and we look forward to beating it this year!