Bennett, Colin (Mr): BSc, UU. Final School Year 1998. Infrastructure Specialist at Leaf Consultancy.
Boyle, Ronan (Mr): Final Year 2000. Advisor at Bank of Ireland.
Brown, Gavin (Mr): Final Year 1996. BSc, QS, DIT, Dublin. BSc, Construct Man, UU. Estimator & Surveyor at Ganson Building and Civil Engineering Contractors Ltd.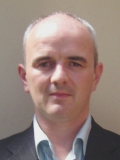 Comer, Niall (Dr): President / Uachtarán Chonradh na Gaeilge. Léachtóir le Gaeilge/Lecturer in Irish. Stiúrthóir ar Chúrsaí Iontrála/ Faculty Director of Admissions, Ollscoil Uladh/ University of Ulster, Doire.
Comer, Shane (Mr): Maths Officer, Education Authority.
Cumiskey, Gavin (Mr): Final Year 1994. Pension Guidance Specialist at Citizens Advice.
Farmer, Ciarán (Mr): Final Year 1999. B. Arch, Oxford Brookes University. Architecture & 3D Modelling Professional.
Fearon, Mark (Mr): Final Year 1996. BA, UU. SHEQ Manager MJM Interior Build.                                                                                                                               
Fearon, Paudie (Mr): Final Year 2001. BSc, 1st Hons, UU. Owner at Wibble Web Design and Development.
Finnegan, Jim (Mr): Final Year 1994. Greenwich University. CEO at FIELDMOTION Ltd. Former Managing Director/Founder at JMC Mobile Ltd.
Lynch, Pádraig (Mr): Final Year 1991. BA, UU. MSc, Bermingham City University. Director, Travertine Ire Ltd & Artisan Marble UK.
Magee, Ciaran (Mr): Final Year 1997. BsC, John Moore Univ, Liverpool. Head of IT, Ireland Computer & Network Security.
Magill, Barry (Mr): Final Year 1992. UU. Financial Adviser at Barry Magill Financial Services Ltd.
Maguire, Cathal (Mr): Director (Architect) at Milligan Reside Larkin Architects Ltd.
Malone, Barry (Mr): Final Year 1997. MBA, Trinity. QFA. MSc, Univ of Reading. BA Hons, UU. Product Manager (Mortgages) at Permanent TSB
McCaul, Peter (Mr): Final Year 1992. Law, QUB. Managing Director / Founder Dealtronic Ltd.
McClean, Gerald (Mr): Final Year 1994. LLB, QUB. Funds lawyer at State Street.
McEntee, Tony (Mr): Ulster Colleges Football All-Star, 1994, 1995, 1996.
McGovern, Brian (Mr): Pensions Actuary at PwC.
McLogan, Declan (Mr): Final Year 1993. LL.B, LL.M, NEBOSH, MCIArb.  Director of SHEQ at McAleer & Rushe
O'Connell, Brian (Mr): Final Year 1997. Senior Account Managewr, Friends First Life Assurance.
O'Hare, Mark (Mr):  Final Year 1998. BSc Hons, UU. Ships Agent at Point Shipping Services
O'Rourke, Cathal (Mr): BEng, QUB. Chartered Engineer, Accredited Mediator.
Patterson, Adrian (Mr): Director BHP Accountants Ltd. BA Hons, UUC.
Rafferty, Damien (Mr): Final Year 1998. Brand Manager at Destination Newry.
Rafferty, Dermot (Mr): Final Year 1997. LLB Hons, QUB. Indirect Tax Senior Manager at Ernst & Young.
Short, Gary (Mr): Teacher (ICT) in St Louise's Comprehensive College, Belfast.
Smith, Kyle (Mr): Final Year 2001. BSc, QUB. Software Developer at Allstate NI.
Treanor, Ronan (Mr): Final Year 2001. BSc, QUB. Software Engineer at Exitex Limited. Activity – GAA.
Tumilty, Paul (Mr): Final Year 1999. BSc, QUB. General Manager NI & ROI, Speedy Services.
Quigley, Evin (Mr): Final Year 1997. MA, QUB. Prof. Dip. Man, Chartered Management Inst. Senior Account Manager Worldwide Group.
White, Chris (Mr): Final Year 2001. BEng, 1st, QUB. Senior Manager & Senior Software Developer at Eventmap
| | | |
| --- | --- | --- |
| Gerard Morgan | Cathal Rushe | Eamonn O'Rourke |
| Cormac O'Donnell | Gareth Murtagh | Daniel Stewart |
| Colm Owens | Niall Comer | Johnathan McCullough |
| Terence McGivern | Felim O'Donnell | Conor Graham |
| Gerard Hartigan | Kenneth Morgan | Brendan Martin |
| John Kane | Oliver McShane | Conor McKeown |
| Gerard Duffy | Paul Torley | Ciaran Rice |
| Kieran Mallie | Daniel McGivern | Sean Gaddis |
| Aidan Donnan | Andrew Gregory | Darren Kelland |
| Maurice Fearon | Terence McMahon | Gregory McKevitt |
| Rory O'Neill | Paul McKeown | Gavan Rankin |
| Shane McCourt | Paul McKevitt | Justin McNulty |
| Raymond Devine | Ronnie Sands | Kieran Fearon |
| Martin Mulholland | Eddie Martin | Paul McNulty |
| Pádraig McGoldrick | Seán O'Hare | David Young |