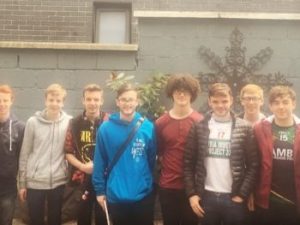 On Tuesday 26th June, the Year 13 Advococay group along with Mrs McGrath, Miss Gilloway and Miss McQuillan had the opportunity to travel to Dublin to the Open Access Centre of the Peter McVerry Trust on Sherrard Street.
It was a chance to touch base with Peter after his visit to the school in February as well as providing the opportunity for the Year 13 students to gain a further insight into the work of the charity not just in Dublin but throughout Ireland.
The students heard stories from three men who have been with Peter since the age of 13; David, Stephen and David and their personal stories were truly humbling for all of us. A key insight that we all took from the day was that everyone has a story and it was eye opening to hear their personal journeys of being on the streets and the support they have received from Peter and his team in getting their lives on track.
It is amazing to see the work this charity does on a daily basis and the school hopes to continue to build on this link over the next number of years.
For more information on the work of the trust visit; www.pmvtrust.ie