Please see att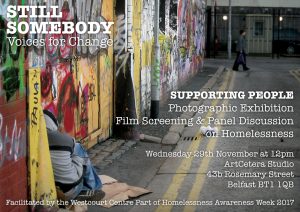 ached an invitation to attend our main event for this year's Homelessness Awareness Week.
Speakers so far include Ricky Rowledge from CHNI, Deirdre Canavan from De Paul, Paul Mageean from the Northern Ireland Human Rights Commission and Nichola Mallon MLA.
We are inviting residents from a number of  local hostels, some school groups and the event is also open to the public.
In terms of the discussion, we plan to cover the following:
Homelessness as a form of social injustice and human rights issue.
An overview of the current homelessness situation here.
The likely impact of the Welfare Reform Act / Universal Credit on homelessness (and other issues) here.
Stress the role of 'Supporting People' and the urgency to protect the programme.
The importance of giving the homeless a voice or speaking on their behalf and suggest ways in which homeless people, the general public, schools and individuals can lobby/campaign to 'Keep Supporting People'.
We hope to see you there.
Kind regards,
Cormac
Cormac McArt
Project Manager
Westcourt Centre
8-30 Barrack Street
Belfast BT12 4AH
Tel: 02890 323009